Our Mission is our Momentum
Financing the expansion of a local factory. Helping a young couple buy their first home. Giving a recent widow the confidence to find her new normal. Protecting a business owner's wealth for the next generation.
These are just a few of the thousands of ways we live our Mission each and every day. With a focused eye on generating lasting value for our clients and colleagues, we meet needs. Solve problems. Overcome obstacles. And, take responsibility for bringing Momentum to hundreds of thousands of clients and colleagues each and every day.
Our Mission Statement
We are in the business of helping clients achieve financial success throughout their economic lives. We do so by focusing on the broad range of their financial needs and delivering quality services that truly fulfill those needs.
We believe that only if each of us – those dealing directly with clients, as well as those who support client contact people – assumes personal responsibility for the financial success of every client we come in contact with, will their success be assured.
We further believe that in fulfilling clients' financial needs we are creating significant value for them while at the same time creating value for ourselves and the company.
The financial success of our clients, thusly, will define our success as well as the company's.
Our History
In the aftermath of the great depression, C.D. Oberwortmann, Andrew Barber and Frank Turk founded Union National Bank and Trust Company of Joliet. Only one bank in Joliet had survived from the 1930s. These three men made a personal commitment to bring quality banking back to the area. Their original slogan was "The Friendly Bank" and summarized their commitment to treating the person in the overalls and the person in the business suit the same way. Their idea of focusing on an individual's needs, regardless of their net worth, proved to be extremely successful, not just the right thing to do. Over the next 40 years, Obie, Andy and Frank grew their modest bank on West Jefferson Street in Joliet into a chain of 20 banks affiliated through their common ownership and strong values.
As the company moved to the next generation of management in the early 80s, a bold vision to unite this chain of 20 banks emerged from the planning process. A new public entity was created, First Midwest. The name symbolized the next generation's vision for the future reach and scale of our company. They worked side by side with Illinois lawmakers and wrote the bill lifting the prohibition on multibank holding companies. In 1983, their determination paid off as First Midwest Bancorp, Inc. acquired the stock of the 20 affiliated banks. At that time, this was the largest simultaneous acquisition of banks ever approved by the Federal Reserve in Washington, DC.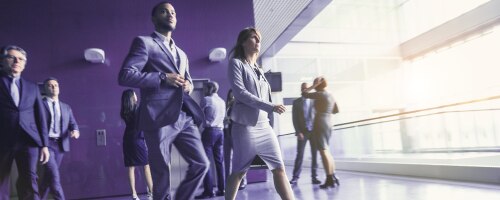 Join our Talent Community
Calling all Momentum Makers. It all starts with your email address. Upload your resume and cover letter, view jobs you've applied for and saved applications, and manage all your career qualifications in one convenient spot.